Hog Roast Porthcawl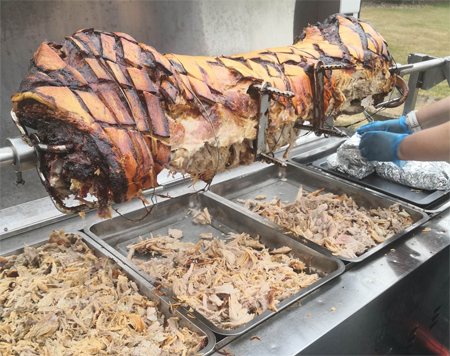 We offer a wide variety of hog roast catering options to suit any occasion, from small family gatherings to large corporate events. Our menus are tailored to your needs, with a selection of delicious, freshly prepared dishes to choose from. We use only the finest ingredients. As the providers of epic hog and spit roast catering, we adore everything about the hog roast and the spit roast as a method and means of cooking and roasting meat in Porthcawl, South Wales.
By loving what we do, we ensure that our clients get the full culinary impact of Hog Roast Porthcawl. We know your service time and can thus roast your meat for six or seven hours. Of course, due to the nature of the produce available, combined with the fact that we underline our commitment to great produce – we always love to roast our meats in front of our clients as the smells which circulate are so taste-inspiring that you simply have to smell it to believe it. Whilst the meat roasts towards its ultimate state of readiness, our skilled and qualified chef craft the accompanying dishes – in the form of salads, canapes or vegetables of a large variety and cooked in different styles to your liking.
If you are looking for attention to detail, bespoke service and 100% satisfaction, you've found us.
Hog Roast Wedding Catering Porthcawl
If you are looking for a quality wedding hog roast caterer then contact HHR catering today. We have catered for hundreds of weddings across Wales both indoor and outdoors. Once our job is finished we always make sure to leave the site as it was when we arrived, while packing away and exiting in a non distractive way, so that the rest of your event isn't interrupted when we are leaving.
Corporate Event Hog Roast Catering
If your company is looking to draw crowds of people to an open day or product launch then consider hog roast catering from HHR Catering. Keep the visitors happ and well fed!
Fun Hire Items Porthcawl
We have a wide verety of tems for your corporate, party, event or wedding hire as well as for school fun days and freshers weeks at universities in Porthcawl and surrounding areas. Here are just a few items for your consideration:
Photobooth hire
rodeo bull hire
See a full list of equipment hire at our sister company website https://funhirewales.com/
Our Catering services of Hog Roast Porthcawl are simply delicious. We are ready to take your order today.
Email: This email address is being protected from spambots. You need JavaScript enabled to view it.

07967 955773